Hardwood Installation in Dallas – Fort Worth
There are a number of factors, including the type wood, plank size and moisture levels inside the home or office that affect your hardwood floor installation. In most cases, your hardwood floor investment is best served by allowing our professional team of installers do their work.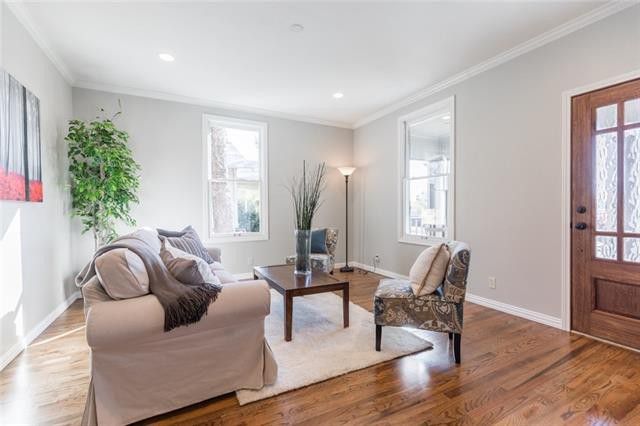 As with all our residential and commercial installations, Hardwood Floors Fort Worth takes pride in delivering the very best flooring solutions. Even accomplished do-it-yourselfers can experience difficulty installing hardwood floors.
The following description is not intended as a do-it-yourself guide. However, our team will provide suggestions and are always available.
If you would like to get a free estimate to install your hardwood floors, please do not hesitate to contact us today. Our hardwood flooring experts will make sure your hardwoods are installed correctly and in a timely manner.
New Hardwood Floors
If you are in the market for new hardwood floors, we recommend getting a quote from our team before purchasing your flooring at a big box retailer.  We can offer a wide selection of quality hardwoods at a lower price point while still providing the supplier warranties.
Saving on the wood and having our team install your new flooring can provide a significant difference in the total budget of your project.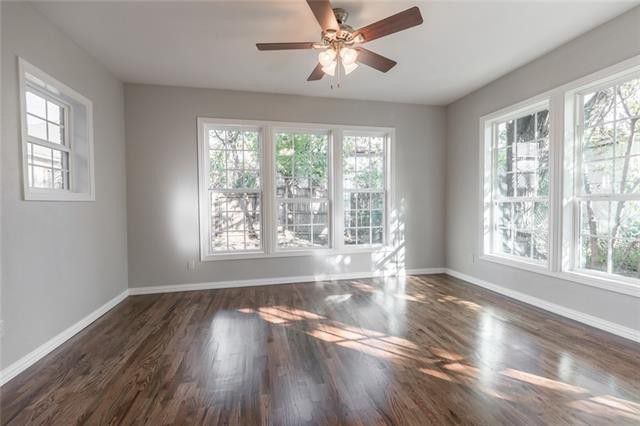 Preparation
Our technicians spend a good deal of time ensuring the hardwood planks are dry, clean and flat prior to performing any installation. Identifying inconsistencies before the planks are installed is critical to the success of your floor.
We arrive with all the tools and latest technology to permit best-practice installations for your floor. When we leave, you will recognize the reasons that drove you to make this prudent investment.
In efforts to preserve the existing wood, our hardwood installation team will carefully remove the wall base, millwork or trim in the room.
In order to meet the International Residential Code guidelines and meet our own standards, which in most cases are higher than international standards, we pay close attention to the vapor retarder on the warm-in-winter side of the plank. This layer protects the wood from moisture and also makes the floor easier to clean.
We choose the underlayment that is best suited for your wood.
All planks are methodically laid out to make sure there is enough distance between planks to allow for expansion. Without this important step, the floor would buckle in time.
All pieces are laid perpendicular to the floor joists but parallel to the longest wall.
Our installers lay the first piece on the left wall, placing the small tongue side facing the wall. We are ever mindful of the spacers as we lay the remaining planks.
For the last row, we cut boards lengthwise to proper dimensions. This row must also be aware of proper spacing. However, when the last board is in place, we remove the spacers.
At this point, we install the appropriate, new trim and molding so that expansion can take place.
Completing the Installation
Once the floor is in place, our hardwood floor installation team will complete the job in a professional manner.
Sweep and vacuum the new hardwood floor
Clean the surface and trim with our special wood floor cleaner
Check installation of the transition pieces like moldings, baseboards, and quarter round.
Thorough board-by-board inspection will be performed prior to leaving. Unused materials and trim will be left with the client.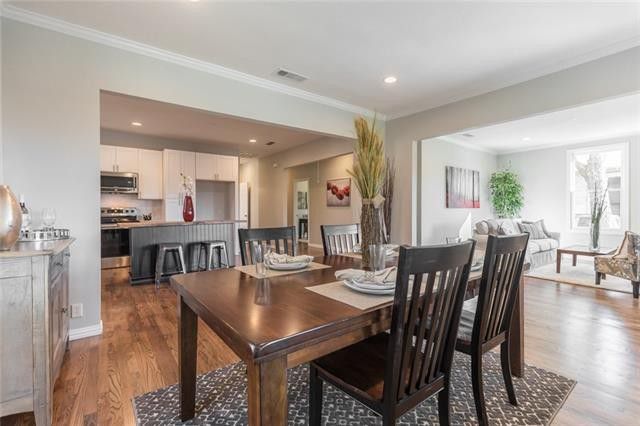 As proven as our hardwood floor installation process is, no two installations are the same. There are many factors that can influence the outcome. If you want the most from your investment, our professionals are ready to serve.
Hardwood Floors Fort Worth installs hundreds of floor each year. We are the most experienced hardwood floor installation team in the Dallas – Fort Worth area. Schedule your estimate today!