Engineered wood floor sales are through the roof! Technical advances have made engineered wood floors the most popular and most practical choice for residential and commercial floor coverings. These real wood floors dominate the flooring marketplace because they are: 
Cost efficient
Practical
Durable
Flexible
Easy to install
The technical advances have come at just the right time as cheap floors imported from China have come under scrutiny from the Justice Department and 60 Minutes of CBS and industry insiders. Revelations about high levels of formaldehyde in Chinese imports quickly raised consumer fears about the products and the companies that sell these products.
Let's start at the beginning:
Engineered wood floors are not laminate floors as were cited by 60 Minutes and industry insiders.
The expose revolved around Chines imports, not around American-made engineered wood floors.
Engineered wood floors made in the USA are safe, stable, durable and environmentally friendly and are built by serious manufacturers who comply with flooring standards set by the Hardwood Plywood & Veneer Association (HPVA).
American-made engineered wood floors bring and add value, comfort and beauty to homes and commercial properties whose owners are studious enough to make informed decisions about their flooring solutions.
As impressive as the advances in engineered wood floors are, not all engineered wood floors are created equally. There are many different wood types and grades but research demonstrates that quality engineered wood floors are every bit as attractive, warm and inviting as solid wood floors and add tangible value and comfort to your property.
In this guide, we present everything you need to know to make the decision to invest in quality engineered wood floors.
Engineered Wood Floors are not Laminate Floors
Laminate floors consist of high density fiberboard that features an image of wood or another material of the consumer's choice attached to the surface. 60 Minutes, the US Justice Department and the HPVA discovered through testing that laminate floors from China contained unacceptable levels of formaldehyde which is used as an inexpensive adhesive for the products. Chinese manufacturers knowingly falsified the reported formaldehyde levels and put consumers at risk of cancer and other health issues. Laminate floors are less expensive than wood but, as we will see, there are many reasons for that.
American–made engineered wood floors must comply with HPVA manufacturing processes and controlled formaldehyde levels, which are stated on most products. Many American manufacturers have gravitated to non-formaldehyde adhesives. The bottom line is that if your engineered wood floor is made in America, you have a higher quality and safer floor than imports from outside the US.
How to Shop for Engineered Wood Floors
Consumers have many considerations when shopping for engineered wood floors. This list will help navigate the engineered wood floor shopping process:
Made in USA – Strongly recommended
Color
Species
Surface Textures
Size
Warranty
How Engineered Wood Floors are Made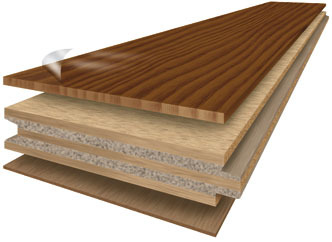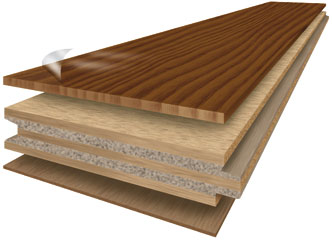 Many consumers are put off by the term "engineered' when, in reality, the effect should be directly opposite. When it comes to wood floors, "engineered" stands for the future. Engineered wood floors are not made from solid hardwood but they are genuine wood floors replete with warmth, beauty and integrity.
The bonded inner plies or layers make engineered wood floors more stable, more durable, more sustainable and more cost-effective than solid wood floors. Engineered wood floors usually consist of at least three plies that are glued together in cross-grain construction. This construction helps explain the superior stability of the surface compared to solid hardwood floors as the plies add protection against buckling, cupping gapping or twisting. The manufacturing process has made engineered floor the most popular choice for below grade flooring for many years.
The outside layer is a hardwood veneer, a thin cut of the wood selected by the consumer to serve as the floor's surface. Exterior veneer choices range from softwoods to hardwoods and can even include exotic woods.
The top layer gives the engineered floor the look and feel of authentic hardwood. Inner layers or plies can be made from a number of products including plywood, high density fiberboard or hardwood. These core layers promote stability but also help resist the moisture and humidity to which solid wood floors can be susceptible.
The Three Wear Layers of Veneer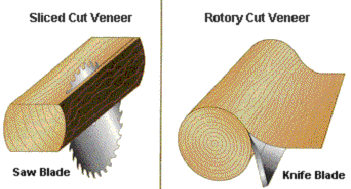 Engineered wood floors offer three different veneer wear layers:
Sawn – The face lumber is sawn after the plank has been kiln-dried to look like solid wood. Once cut, the wafers are glued onto the plywood core. Due to the added thickness (2 – 5 millimeters), sawn surfaces tend to look and feel more like genuine hardwood than either sliced or peeled veneers.
However, the extra thickness does not lend to the use of an identical back layer, a technique that describes "balanced" floors. As a result, sawn engineered wood floors can be more susceptible to moisture, humidity and cupping than thinner veneers in balanced engineered wood floors.
Sliced – The sliced face also appears similar to solid wood surfaces but has the technical enhancements of veneer. The thin faces range between 1/42 inch to 1/16 inch and are cut with a knife in the same direction as sawn faces. The slicing process emits no sawdust but offers maximum yield from the source wood; two factors that make sliced veneers more environmentally friendly.
Sliced engineered floors are not likely to last as long because refinishing opportunities are limited. If the consumer wants to prolong the life of the floor by refinishing, the thicker surfaces created in the sawn process is recommended. Sliced engineered floors are usually balanced.
Peeled – Peeled veneers are rotary-peeled directly from the log with a rotary lathe. These are the thinnest veneers. Usually, peeled floors are balanced and moisture resistant. Additionally, peeled engineered wood floors are extremely stable as they often have three or more piles.
If moisture and humidity pose threats to the floor, peeled floors make sense. However, peeled top layers can appear slightly different than the same natural wood surfaces.
Informed consumers must decide the importance of the veneer's thickness and the number of plies. If the finish is high grade UV –cured aluminum-oxide, it will have a long life without further refinishing.
Consumers who may want to change the finish or restore the veneer should consider thick sawn engineered wood floors. If you foresee sanding the floor in the future, this option is available with the thicker veneer.
Most consumers do not recognize the difference between these engineered wood floor types but knowledgeable wood floor customer service reps will happily identify the different engineered wood floor veneers easily.
Understanding High Quality Engineered Wood Flooring
The sophisticated technology used to manufacture American-made engineered wood floors has spiked demand across the US, especially in the South and West where humidity varies and where moisture can present challenges for other floor types. Yes, high quality engineered wood floors are less likely to warp, cup or heave than solid wood. And, yes, this real wood floor is much less expensive to purchase and install than sold hardwood flooring. But, as noted, not all engineered wood floors, especially imported brands, are high quality.
So, what factors differentiate high quality from medium or low quality?
Remember, never judge a book or floor solely by its cover! In engineered wood floors, quality begins with composition. Your first to questions should be:
Does the engineered wood floor consist of low-grade three-ply softwood plywood?
Is the composition high quality plywood?
The lower the grade is, the greater the risk of delamination, where layers separate and come apart. High quality engineered wood floors use high grade materials so to reduce the stress of gluing the veneer to the plies and help offset the effects of moisture and humidity. This is where the consumer will see the quality over the life of the floor.
After interior composition, the wear layer must be the next consideration. Consumers should learn as much as possible about the veneer. Be careful not to judge the quality of the veneer by the quality of the finish. Looks can be deceiving.
Consumers should study the face boards closely, looking for any checks in the surface. Surface checks are warning signs that the veneer has been exposed to moisture or has another manufacturing flaw.
If you envision future refinishing or re-staining, you will want a thicker veneer. Ask about the thickness of the veneer and the number of plies. Extra plies can protect the floor and yield long-term benefits in terms of the life span.
No wood floor, including engineered floors are completely impervious to the risk of humidity and moisture but high quality engineered floors have safeguards that solid wood floors do not. Consumers should read the manufacturer's labels and maintenance instructions prior to purchase. This will help protect against pitfalls such as face-checking, warping, splitting, cupping and delamination.
To make an informed decision, visit the provider and ask questions about:
The type plies
Number of plies
Thickness of the veneers
Type veneers
Balanced or unbalanced
Do not be fooled by price because the price does not necessarily reflect quality.
Veneer Choices for Engineered Wood Floors
Engineered wood floors are available in tongue and groove strips that can be stapled and/or glued to the subfloor. Due to new technology, "long plank" veneers are designed for use in "floating" installations below grade or over concrete, where boards are glued to each other and not attached to the subfloor. This type installation allows shifting to protect against moisture and humidity.
Engineered wood floor finishes are plentiful, available in just about every domestic hardwood and softwood as well as in most exotic woods, where fabulous savings can be captured. Unless specially ordered, all engineered wood floors arrive prefinished.
The thickness of the outer layer and the quality of the plies or substrate is usually reflected in the length of the warranty. The specifics of the veneer should be a consideration. Engineered wood floors with veneer thickness of 1/12 inch cannot and should not be sanded and/or refinished. On the other hand, if the top layer is ¼ inch or more, the floor can accommodate three or more sanding and refinishing treatments during the life span.
This means the stain can be changed or preserved and will add years of life to the floor. It is strongly recommended that the engineered floor of choice have at least three layers of cross-stacked substrate. Five plies will be that much more stable, even if the wear layer is not thick.
Remember that the top layer or "wear layer" is all about achieving the look, feel and warmth you desire. The substrate is about stability and preservation.
Pros and Cons of Engineered Wood Floors
Flooring experts admire engineered wood floors. The pros clearly outweigh any negligible risks and are make engineered wood floors the best-selling flooring solution.
Pros
Moisture and humidity resistant
Cost-efficient, especially in exotic woods
More environmentally sustainable
Can go where solid wood should not
Long shelf life
Easy to install
Outstanding stability reduces cupping, warping, shifting
Increases home valuations
Comfort, luxurious and customized flooring
While small amounts of hardwood are used for the veneer, the plies consist of fast growing plantation trees making engineered wood floors resource efficient.
Factory finished veneers last longer than finishes applied on site.
Unlike solid wood, can be installed below grade
Inner plies are made from renewable wood
Many water-based finishes contain no VOC's.
Formaldehyde-free adhesive systems meet stringent air quality tests.
All the warmth of solid wood floors
Easy installation
Cons
Less expensive than solid wood but more expensive than laminate, tile and carpet
Thin veneers discourage refinishing
Manufacturers who use fiberboard plies are not as stable as those that use wood plies
Engineered Wood Floor Warranties
Regrettably, warranties on engineered floors are drafted and approved by lawyers and have the same legalese that we see in just about every product warranty today. Yet, the warranty must be considered a factor when purchasing any floor, including engineered wood floors.
In most cases, the warranty will not cover everything that could happen to your new floor. Consumers should read the warranty carefully to eliminate unintentionally misleading statements from sales personnel.
It would be rare that the warranty for an engineered wood floor or any other flooring product was not a "limited warranty." These warranties include two parts:
Structural Warranty – This guarantees the floor will not break down or fall apart, but may include maintenance exclusions or installation errors and even site condition issues.
Finish Warranty – This guarantees the finish will not wear through to the bare wood. Exclusions can include pet claws, heavy furniture, furniture casters and more. It should also be understood that the finish may look worn without being worn through to the wood.
Warranties make it important to deal with engineered wood floor retailers you trust and who will take their time to explain and stand behind the full warranty. Remember the warranty is issued by the manufacturer, not the retailer.
Installation
Some consumers choose to install their engineered wood floors. In these cases, it is imperative to carefully read and follow the manufacturer's specific installation guidelines. Most buyers rely on experienced engineered wood floor installation contractors that are recommended by the retailer.
Engineered wood floor installations are less expensive than solid wood floor installations but should not be considered inexpensive. Your engineered wood floor is a solid investment and unless you are a very experienced do-it-yourselfer, it is usually wiser and more cost-effective to have the floor installed by experts. This will also ensure your finish and structural warranties are intact.
Engineered wood floors are sold prefinished or unfinished. If you purchase an unfinished engineered wood floor, you will either have to apply the finish yourself or hire a contractor. If you finish the floor yourself, be sure to check that the finish warranty still applies. Again, if you are not experienced, it may not be worth the effort and risk. When the risks are considered, it is easy to see why almost all consumers purchase prefinished engineered wood floors.
Regardless of which installation protocol you select, most manufacturers strongly recommend the product remain in "opened" factory packaging until it is time for installation. The packaging should be stored in "normal living conditions" between 68 and 78 degrees Fahrenheit with relative humidity of 30-50 percent and rest for 3-4 days to acclimate to the new environs before installing.
To know how much engineered wood flooring you will need, obtain the square footage and factor in a small waste factor. The waste allowance for straight-course floors is between 5-7 percent. For herringbone styled floors, allow about 15 percent for waste. You will also need to measure your trim needs; hearths, stairs, cabinets, floor registers and floor outlets. Be sure to order enough factory trim to complete the job.
There are three general types of engineered wood floor installations; stapled, glued or floating. The easiest is the floating installation which is assembled directly over an existing floor, like a concreted slab. The engineered floor is described as floating because it is neither glued nor stapled to the subsurface. This installation is used for rooms that are below grade or that are exposed to changes in humidity.
The installation protocol may vary slightly but these are standard steps:
Prep the subfloor – This includes prying existing trim, removing end caps on baseboard heaters, registers, vents and any other obstructions.
Secure the exiting subfloor – Batten down any loose planks or boards. Repair damaged sheets.
Check for uniform flatness and fill and sand uneven compressions.
Trim door casings – The door casings will need to be trimmed to allow the new boards to slip underneath.
Vacuum and clean the subfloor.
Apply builder's felt – 15-pound builder's felt is usually recommended. It should run the same direction as the new floor. Butt the edges and use a hammer to staple every edge. Cut openings with a utility knife wherever there are vents or outlets.
Beginning in a corner and running along the longest straight wall, set the starter course.
Place ½ inch- thick spacers against the wall and adjacent wall to create the expansion that will prevent buckling. Butt the grooved edge of a long strip against the spacers.
Fit a strip not less than ten inches ½ inch from the end wall.
Commence you tongue and groove installation using a brad nailer loaded with 1 ½ inch brads and apply face nails every 8 inches within 1 inch of the wall. Keep checking the tongue alignment.
Toenail the flooring – When the first course is in place, proceed to toenail the surface by driving 1 1/2 inch brads at 45 degree angles through the strip's tongue into the subfloor. Repeat this process every 4 inches.
Apply the second course over the tongues and use a mallet or taping block and hammer to snug the settings. Offset the end joints by at least 12 inches from those applied to the first course.
Toenail as with first course.
A tip of the trade is to choose each piece for length, not for color or grain. The farther apart the end joints are staggered, the more comfortable the floor will look.
We publish this overview to encourage buyers to use professional engineered wood floor installers, which will ensure the highest and longest return on your investment.
Are Engineered Wood Floors Imported from China?
Even before the 60 Minutes expose about laminate floors sold by Lumber Liquidators and others that were imported from China, the Justice Department and other consumer and industry groups expressed concern about laminate imports. The first thing we need to understand is that laminate floors are not engineered wood floors and that reputably manufactured American-made floors comply with standards set by the California Air Resource Board (CARB), which will be implemented nationally by Congressional legislation before the end of 2016.
In the case of engineered wood floors, CARB applies to the plies used to make the floors. CARB guidelines assure consumers that engineered wood floors meet safety standards for emissions. However, there are also American-made floors that are not CARB rated due to the paperwork burden but that are safe.
CARB-compliant is a surefire indicator of low formaldehyde emissions, which was the safety hazard documented by 60 Minutes and others with Chinese laminate floor imports. The simplified problem with Chinese laminates was inaccurate reporting regarding formaldehyde emission levels. Formaldehyde is a carcinogen linked to cancer and myeloid leukemia. High emission levels were reported on Lumber Liquidators imports and others, including certain Lowe's products, which were sold to unsuspecting buyers.
In 2010, Congress passed the Formaldehyde Standards for Composite Wood Products Act. This adopted the CARB criteria for safe levels of the chemical in consumer goods. California had already assumed a leadership role when the state passed rules limiting formaldehyde in 2007.
In 2014, the Hardwood Plywood & Veneer Association (HPVA) initiated testing of wood manufactured products in China and sold in the US. As 60 Minutes found, the formaldehyde levels were unacceptable and did not meet the CARB standards.
HPVA also tests and certifies products manufactured in the US and also tests and certifies facilities where US wood products are manufactured. No wood products, including engineered wood floors that are HPVA certified, contain dangerous levels of formaldehyde. Check the labeling and ask the retailer about CARB levels and HPVA certification.
Formaldehyde has been linked to health problems, including cancer. The EPA advises that consumers purchasing any wood product should inquire about formaldehyde levels.
As 60 Minutes revealed, laminate floors imported from China and sold by Lumber Liquidators and other US distributors exceeded acceptable CARB levels and could pose health risks. Formaldehyde is used by manufacturers because it is an inexpensive adhesive but American manufacturers either use extremely low levels or avoid using the chemical entirely.
Consumers should be aware that many Canadian wood products are imported from China. However, US and Canadian manufacturers have national standards for engineered wood floors that specifically address formaldehyde emissions and delaminating.
CARB violations were not confined to Lumber liquidators. In fact, Wayfair, a popular furnishing provider, has fallen under scrutiny for selling products with high formaldehyde readings. Floor & Décor was subject of a class action lawsuit for exceeding safe formaldehyde levels. In Stafford England, the Flash Ley Primary School was closed for six months due to high formaldehyde levels in floors and furnishings. This is not a risk to which American consumers need be exposed. Health risks can be avoided by buying American made products and checking formaldehyde levels.
When new legislation is finally passed, all wood products sold in the US will have to pass independent third party testing. It should be understood that while engineered wood floors originally used Urea Formaldehyde Adhesives, American manufacturers shifted to Phenol Formaldehyde Adhesives as bonding agents. Today's new adhesives specify "No Added Formaldehyde" – Just one more reason to Buy American!
Conclusion
As former real estate agents, my wife and I have always been interested in restoring property and bringing real estate back to life. For these projects, we understand the importance of location, room size, dazzling amenities, quality construction and solid infrastructure.  When acquiring or improving real estate, one must always invest with the future in mind.
We always consider:
Location
Structural soundness
Kitchen, baths, closet space
Roofing, foundation
Flooring and window treatments
Heating, cooling, plumbing
Landscaping, lawn
Outbuildings, garage
More
Given the competitive nature of the residential market today, when upgrading, restoring or tear down to rebuild, quality counts! It is more important than ever to know where building products are manufactured, how they are constructed and if they represent good value. When quality counts, there is much to learn about products used to improve property.
Quality engineered wood flooring is achievable. In terms of home improvements, consumers should understand basics about the marketplace:
Construction – Globalization has brought an influx of imports to the US home improvement landscape. While these products provide attractive pricing, the quality of construction of many of these imports tends to be substandard when compared to US manufacturing standards.
Safety – Improvements that present safety issues are not improvements but risks. We learned long ago that judging a book or product by its cover can be problematic. We need to know the safety plusses and minuses when we invest in home improvement products.
Charisma – Like everyone else, we like eye candy. We do not invest in any home improvement product that does not enhance visual appeal, increase comfort and meet reasonable maintenance standards.
Resale value – If the improvement does not add to the resale value of the property, why invest? We always consider the impact of our home improvements on resale.
Durability – Durable products mean less maintenance and longer life. With today's super active lifestyles and pet-friendly residences durability must play a role in decision-making for residential and commercial property upgrades.
Sustainability – It took us a while to fully understand the effect of sustainable products on the world around us. Now, when we gauge improvements that will increase resale value, sustainability is one of our core considerations.
Adaptability – Every homeowner sees something different in the property they acquire. We like improvements that keep as many options as possible on the table for our future buyers. Potential is always a big factor in resales. Never limit the property's potential.
Installation requirements – No matter how fabulous the product, we have learned to be careful about understanding the ramifications of installation costs. Installation costs can price an improvement out of the market. We always get guaranteed installation prices.
Warranty – Reading, understanding and documenting the product warranty is one of the most important investor disciplines. It helps to know if the warranty will survive a change of ownership.
When we invest in improvements, we measure our options by these standards. They work for us and hope they will work for you!
Contact Hardwood Floors Fort Worth to get reliable information and guidance about engineered wood floors that will bring warmth, comfort and value to your property.